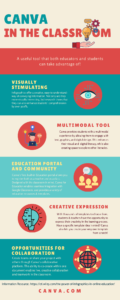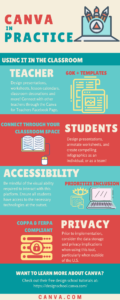 Well the time has come to share my ed-tech resource project worked on alongside my partner in crime in this class, Mary! This resource project began as a somewhat daunting task but it was easily facilitated by our chosen resource for both the source of this project and the developed Edtech resource as well! Welcome to the world of Canva!
If you don't know what Canva is, it is a design platform with a whole variety of templates from presentations to infographics, brochures, social media friendly designs and more! You can even create your own personal zoom background! It allows you to almost effortlessly create beautiful documents that truly enhance your content! You can use it on a computer, tablet or phone, although it definitely lends itself better to a larger screen environment such as those found on tablets or computers. As you can see below, there are lots of templates to choose from and these are just a few of the template categories available!



It has a free platform which allows you to do just about everything, but there is a pro account that you can sign up for to gain access to more templates, elements, more storage and other features. The pro account isn't the cheapest to access ($16.99/month),  and given the capabilities within the free option,  I see no reason to upgrade at this time.
The other amazing discovery we made about Canva was its education platform! Canva for education is free to registered teachers and allows teachers to share Canva with their students. It integrates with google classroom as well! Students can create work individually or collaboratively and it provides a visually stimulating way for them to create a variety of different designs, presentations and more. Teachers can also use it to create worksheets, a virtual classroom, class decorations, presentations and more! Teachers can also join the Canva for Teachers facebook community to further connect with educators using Canva.
Now, of course as with any tech tool it is important to consider access and inclusive education principles prior to using it, as well as to ensure it meets all of the privacy concerns. From what we can tell, it looks as though it is good on that end, but it would be wise to run it by your tech advisor in your district to double check!
Last but not least, Canva offers free design tutorials through Canva Design School! So if you are like me and are loving the tool but want to learn how to get the most out of your designs and Canva, these tutorials are an awesome way to develop your skills. They are broken up into several tutorials so you can work away on them at your own rate. Oh and did I mention they are free?
All in all, I can truly say that Canva is a tool I will continue to use and that I look forward to implementing in the classroom. As mentioned in our Canva resource accompanying this blog, it is a great visually stimulating multimodal tool for both students and teachers across all disciplines! I have used it to create several projects and it comes highly recommended from me!
Other Canva projects we have created: 
My Inquiry project for Seminar- How to Empower girls to engage with science?
My Edtech inquiry documented on this blog- Learning danish
My Multiliteracies in the Classroom Project- Environmental Stewardship Projects
A sample worksheet (made my Mary)- Crafting Dialogue Worksheet