It is becoming increasingly apparent to me that technology and the digital world will be interwoven into my future classroom much as it is in my own personal life. With this prominent digital landscape comes a lot of opportunity to engage in a variety of ways and through a variety or resources, but it also comes with a lot of responsibility to engage correctly and responsibly, especially as an educator. As I think about my future role as a teacher, the task of ensuring I am doing it all right when it comes to technology is a little daunting. Thankfully, I have been pointed in the right direction throughout this first month of my Ed-tech course and I am going to share some of those resources here.
Privacy and Safety as an Educator
One of the biggest responsibilities I feel that I have as an educator when it comes to using technology is to uphold the privacy and safety of my students, myself and other educators as we engage with the digital world both inside and outside the walls of a school.  FIPPA (Freedom of Information and Protection of Privacy Act) provides the laws by which we as educators must follow when considering privacy and safety. The office of the information and privacy commission for B.C. also provides many resources the educate yourself on privacy rights, one of which is 'The BC cloud computing guidelines'. This document was particularly helpful to me in outlining some of the key considerations to look at when implementing an online learning tool.
Some considerations when looking to implement online learning tools:
How does the company make money?
Where is the company headquartered and what are the privacy laws there?
Where is the data stored?
Are there security settings within the platform?
Ensure you have informed consent!
Social Media as an Educator
Jesse Miller's guest lecture emphasized just how important it was that as educators we understand all of the above. He talked a lot about the use of social media as teachers and the fact that as educators to remember that we are held to a higher standard than most when it comes to how we display ourselves online. He pointed out that students will be using social media and therefore teachers need to have social media literacy. As a user of many social media platforms, I have always prioritized being professional within my personal platforms and all of my social media accounts are set to the most private settings purely because I am a pretty private person. I am not on social media to have a certain number of followers or to obtain a certain number of likes, it is more of a personal way to curate my life and share that with my friends and family.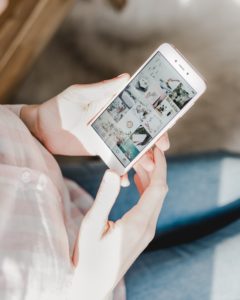 However, as I am learning through this course there is also a potential to engage more publicly with social media through a professional education platform. What this looks like for me personally I am still figuring out, but I am excited to explore personal learning networks such as twitter or blogging as I move into my education career. That being said I am coming to the conclusion that I don't want my personal platforms intermixing with my potential professional platforms. What I took away most from Jesse's talk was that as educators we must be digitally literate because our students are interacting with the digital world more than ever. Furthermore, it is important that we as teachers are modelling responsible behaviour as we navigate the social, personal and professional communication networks.
Photos used as follows in chronological order:
Photo by Clarisse Croset on Unsplash
Photo by Georgia de Lotz on Unsplash