I have been very loyal and committed to my Duolingo app, but this week I thought I would try to explore some of the other apps that are out there! Now, unfortunately it appears as though Danish is not one of the most popular languages to learn so not all language apps support it but there are still several options out there to check out! Now admittedly, I am very committed to keeping my daily streak going on duolingo and do not currently have the time to fully check out all of these apps on top of my current daily danish habit but I have listed some options that are out there!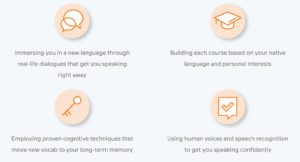 Babbel, unlike Duolingo is not a free app although it does offer a free 7 day trial before you commit. Beyond that 7 day period it varies in cost from $9.99/month to $19.99/month depending on your subscription choice. Now, although this in the grand scheme of things isn't a huge monthly cost, (many of us probably spend equal to or more on this a month in coffees out or through our Netflix subscriptions), it is definitely more costly than many of the other language apps out there. That being said, it does offer more flexibility in terms of your own learning design and a unique conversation platform within the app. In searching for apps, I also found it repeatedly recommended, which to me is a good sign.
Drops like Duolingo has a free and premium version (of note, there is a teacher and student discount). The premium version offers unlimited play time, lacks adds and has a few additional features to the app. Drops is highly vocabulary based, and uses visuals combined with words to teach you new words in the language of your choice. As such I think this would be a good starting app to learn a language from which you could develop a good vocabulary base to then take to a more advanced course or app. That being said, in my experience Duolingo does a good job of teaching you vocabulary alongside grammar so I think I would continue to recommend this over the Drops app if the learning intention is to get a good grasp on the language outside of vocabulary. The one feature that I eel really sets Drops apart is its travel specific category that can help you learn some of the more common phrases to know if you are travelling to that country. That travel application could be very useful when visiting a new country.
Mondly is in many ways quite similar to duolingo in that it teaches you vocabulary and grammar simultaneously. It has a premium version which allows you to unlock further categories out of the learning sequence, but otherwise you can access it for free. It includes a conversation practice feature within the app which is a nice feature as well as something that Duolingo lacks at this time!
Now these are only a few of the apps available, as I mentioned there are many options out there and if you are choosing to learn a language I would recommend trying out a few as some might work better for you than others. Here are a few more that you can check out further if you are so inclined:
And if you want to really dive into and commit to a full language course: here are two online learning courses for danish!